Corporate Social Responsibility or CSR as it is known for short is how a firm manages its business process to produce an overall positive impact on society at large.  Though resources are limited, we have over the years supported individuals and non-profit organisations through sponsorships and donations.  These include the following: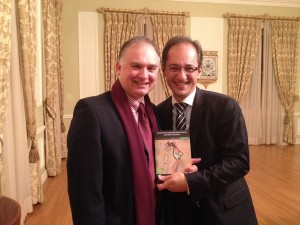 The Entomological Society of Malta
For the second year, MGI Malta was one of the sponsors in the publication of Volume 6 of the Entomological Society of Malta. The launch of the publication took place on 6th February and was hosted by the President of Malta at San Anton Palace. One of partners of MGI Malta is seen with Dr. David Mifsud, Publication Editor and President of the Society during the book launch.
MGI Malta has for a number of years supported the Lifecycle foundation, which assists renal patients to have a better quality of life.  We are again assisting this foundation during 2013 in its challenge to cycle 2000 km from Minsk to St. Petersburg.
Link: http://www.lifecyclechallenge.com/
 The Entomological Society of Malta
The Entomological Society of Malta has for a number of years worked hard to promote and research the science of entomology (relating to insects) in Malta.  It publishes a number of publications, including a regular annual bulletin containing wealth of information on the subject.  Through a sponsorship, MGI Malta has contributed towards the last bulletin published by the society.
Link: http://www.entomologicalsocietymalta.org/
 Malta Wild Plants Web site
MGI Malta has supported the author of this website which contains an extensive database of wild flowering plants in the Maltese Islands.  Its author, Mr Stephen Mifsud, has dedicated a substantial amount of energy and research to compile and offer this project free of charge to the general public